Giving to Swanton Pacific Ranch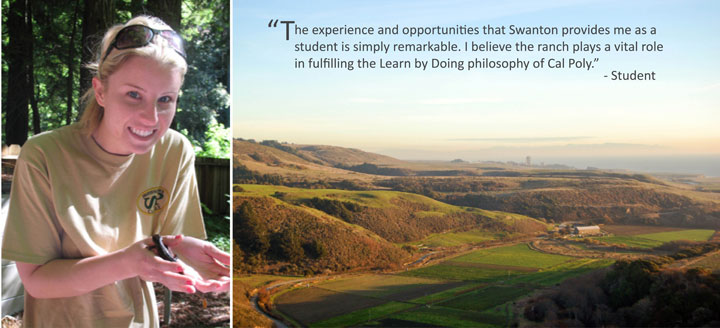 Your generosity can help sponsor the growth and improvement of Swanton Pacific Ranch and the programs it offers students.
In partnering with those who embrace the vision of Swanton Pacific Ranch, together we can reach our goals: goals to increase student learning and optimize the educational potential of the ranch, all the while, maintaining the foundation of sustainable land management practices that will ensure Cal Poly's "living laboratory" is available for generations to come.
The Student Experience:
Live and learn on a working ranch
Develop career skills
Exposure to current technology
Work on diverse research projects
Our Mission
To provide Cal Poly students, faculty, staff and the public with a unique interdisciplinary environment in which to live and learn, to foster the Learn by Doing philosophy by providing learning experiences on a working ranch with diversified agriculture and forest resources while maintaining the integrity of the ranch.
Related Content