News & Events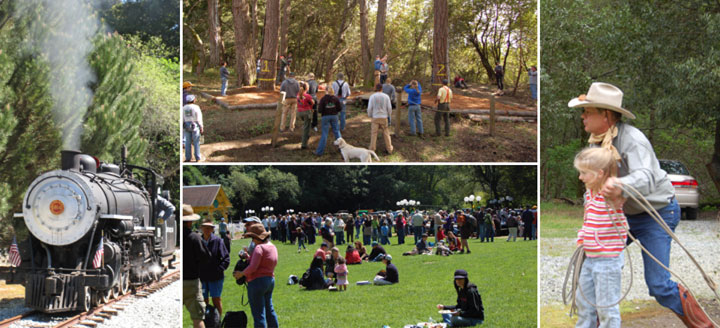 Cal Poly's Swanton Pacific Ranch Day
Purchase tickets by clicking here.
October 12,  2019 - join us for a day of walking tours and demonstrations highlighting Swanton Pacific Ranch. The event will run 10 - 3:30.
We'll start off the day at 10 AM, at Swanton's College Station, home of the historic Swanton Pacific Railroad Roundhouse. Be sure to visit the booths and displays that will be showcasing our various programs, where you'll have the opportunity to engage with Swanton staff, former interns, alumni, and other important members of our community throughout the day.
Morning guided tours will begin at 10:30 AM. Choose from tours spotlighting botanical communities, sustainable forestry, creek restoration, our founder's historical residence, our new field camp development, and the Swanton Pacific Railroad. While the railroad will not be operating, locomotives and other rail-related equipment will be on display. In addition to these tours, the afternoon tours, beginning at 1:15 PM, will include the options to see organic crop production or our co-management of prairies and livestock.
Lunch service, starting at 11, will feature Swanton Pacific Ranch natural grassfed beef, accompanied by a country picnic menu and live music by Fiddle Road. Join us in celebrating this special day. We hope to see you here!
For more information, contact Grey Hayes, (831) 227-7163
---
Our Organic U-pick Apple Orchard is open Fridays, Saturdays, and Sundays, 9-5.
We look forward to seeing you!
Our cattle are born and raised right out on Swanton Pacific Ranch pastures.
They feed on native grass dominated pastures and are part of a planned grazing practice. This enhances their environment, while producing a great product offering numerous health benefits to the consumer.
---
Related Content