News & Events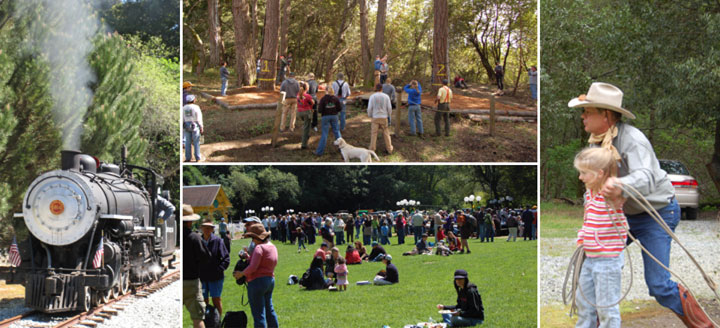 Join us on the evening of June 28 for a presentation by Dr. Chris Wilmers, who will present the results of years of study on local mountain lion populations.
---
Volunteer Opportunities
Swanton Pacific Ranch staff welcome Cal Poly students and faculty to help with various ranch operations a few times a year. Typically, Swanton Pacific Ranch provides transportation, housing, and meals. 
Please check back here from time to time, as new opportunities or additional details develop. For more information on any of these events, contact Education and Research Coordinator Grey Hayes.
---
Redwood Tree Planting: March 9 - 11, 2018
Nine volunteers, two SPR Ambassadors, and one staff person planted 2300 baby redwood trees in Swanton Pacific Ranch's forests. Way to go!
---
Apple Tree Fruit Thinning: May 4 - 6, 2018
Volunteers will thin newly set fruit in Swanton Pacific Ranch's Organic U-Pick Orchard. 
---
Pumpkin Planting: June 1 - 3, 2018
Volunteers will plant pumpkins in Swanton Pacific Ranch's Organic U-Pick Orchard. 
---
Al Smith Day & Cal Poly Day
Al Smith Day - Canceled
The 2018 Al Smith Day has been canceled as a result of storm related damage to  Swanton Pacific Railroad.  The timing of repairs to the Railroad is uncertain, but volunteers have already begun planning necessary to make repairs.
---
Al Smith Day is held in April each year. Al Smith Day highlights the Swanton Pacific Railroad while giving attendees a glimpse of ranch operations and educational opportunities. Train rides, a ranch barbeque, live music, and the chance to visit the Swanton Pacific Ranch makes Al Smith Day a fun event for all.
Please join us for the annual train rides, barbecue and choice of other activities put on by the railroad and ranch. Those attending will be brought up to date on what has been taking place at Swanton by both the railroad and the ranch. The annual event is held at the beautiful Swanton Pacific Ranch in Davenport, CA.
---
Cal Poly Day 2018
We are in process of planning for Cal Poly Day, which we hope to hold on September 22, 2018- stay tuned for more information.
---
These two yearly events are used to showcase activities at the ranch, and include barbeque, train rides and roping demonstrations. The Cal Poly Logging Team often joins in the fun with axe throwing and cross-cut demonstrations. Swanton equipment as well as t-shirts, hats, etc., are also on display.
Our Organic U-pick Apple Orchard is now CLOSED for the season.
We look forward to seeing you next season!
Our cattle are born and raised right out on Swanton Pacific Ranch pastures.
They feed on native grass dominated pastures and are part of a planned grazing practice. This enhances their environment, while producing a great product offering numerous health benefits to the consumer.
---
Related Content