News & Events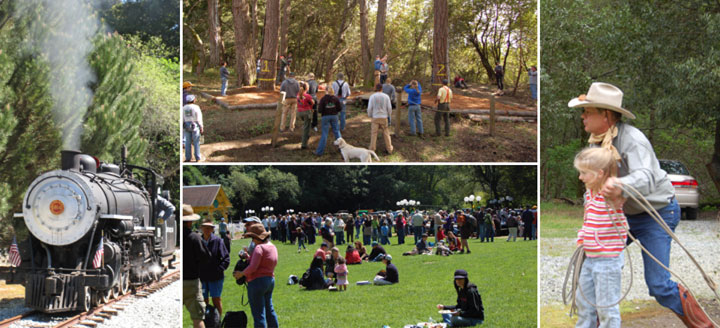 Volunteer Opportunities
Swanton Pacific Ranch staff welcome Cal Poly students and faculty to help with various ranch operations a few times a year. Typically, Swanton Pacific Ranch provides transportation, housing, and meals. Please check back here from time to time, as new opportunities or additional details develop. For more information on any of these events, contact Education and Research Coordinator Grey Hayes, (831) 227-7163.
Apple Pruning Weekends!
We are hosting student volunteers the weekend of January 25 - 27. Students will need to fill out a photo release form and a volunteer form to the the CAFES Dean's Office (Building 11, Room 211); those turning in those forms early are most likely to reserve a spot for this popular event.
We are hosting community volunteers on Saturday February 9th 10 - 3. Space limited to 20 people.
Contact Grey Hayes, (831) 227-7163 for more information and to reserve a spot.
---
2018 Cal Conclave
The Cal Poly Logging Team (#calpolyloggers), an intercollegiate team of male and female students involved in traditional forestry field skills, won many prizes during the 2018 Cal Conclave on Saturday, Nov. 10 at Swanton Pacific Ranch.
Not only did the Team win first place, but individuals scored very well. Erin Sheridan won Belle of the Woods. Rachel Wehrman received 4th place Belle of the Woods. Will Kraemer won Bull of the Woods. Kyle Rozell was 2nd place Bull of the Woods.
Teams from Humboldt State, UC Berkeley and Northern Arizona University competed at the all-day Cal Conclavey. There were 85 contestants and 150 attendees.
Events included tree climbing, power saw (chainsaw), single and double buck with cross cut saws, obstacle pole, choker setting, and more.
---
Cal Poly's Swanton Pacific Ranch Day
Save the Date! October 12,  2019 - join us for a day of walking tours and demonstrations highlighting Swanton Pacific Ranch. 
An open house event for Cal Poly alumni, community members, neighbors, and friends of Cal Poly and Swanton Pacific Ranch.
Experience the unique qualities of Swanton Pacific Ranch, Cal Poly's living laboratory - its natural beauty, ecological diversity, integrated and sustainable land management practices, educational programs and research-based restoration projects.For more information, contact Grey Hayes, (831) 227-7163
---
U-Pick Closed - Opens Again Labor Day Weekend 2019!
Our Organic U-pick Apple Orchard is closed- it will open again labor day weekend 2019
We look forward to seeing you!
Our cattle are born and raised right out on Swanton Pacific Ranch pastures.
They feed on native grass dominated pastures and are part of a planned grazing practice. This enhances their environment, while producing a great product offering numerous health benefits to the consumer.
---
Related Content